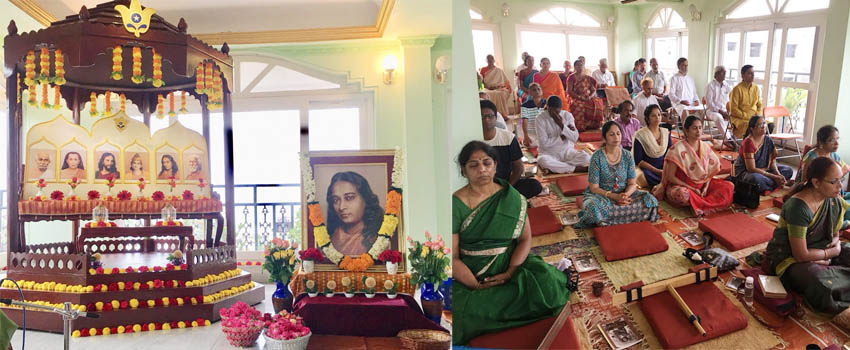 The Kendra devotees celebrated Guru Purnima this year on Friday, July 27th, offering their love and devotion at the feet of Gurudeva, Sri Sri Paramahansa Yoganandaji. Around 120 devotees attended the programme along with their family and friends.
The auspicious day started with a Prabhat Pheri in the early morning from 6 am - 7 am. The devotees and Sunday school children of the Visakhapatnam Kendra took the procession around the Kendra on Paramahansa Yogananda Marg (Road named after Gurudeva). Devotional chanting by the kids and devotees was inspiring and captivating to one and all.
A special commemorative meditation was held at the Kendra from 4 pm - 7 pm. Devotees eagerly participated in flower decorations, preparing Prasad and cleaning of Mandir on this special day. The programme began with inspiring prayer from Guruji's writings, reading from the Autobiography of Yogi, soulful chanting, meditation on the Guru given techniques and ended with Pushpanjali and Prasad distribution to all devotees.